Hyde Park - central
Located bang right in centre of London, Hyde Park is surprisingly dog friendly, except in children's play areas of course. In fact it is the park to parade the Corgis, the Vizsla or the rare breed Chinook. There are plenty of great cafés (two around The Serpentine) although you might want to keep them on a leash around the famous lake in case they leap in to chase the ducks. You're also advised to bring a baggie as poop-and-run is frowned upon, especially in the summer months when there are picnickers and sunbathers galore.
Plan your dog walk in Hyde Park here. More on dog control in the royal parks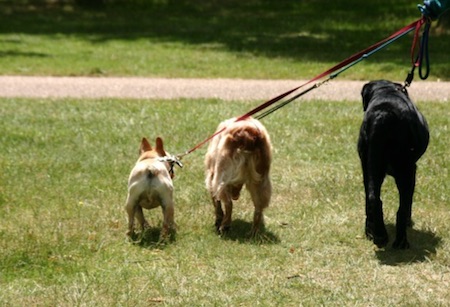 Victoria Park - east
Vicky Park, as it's known to east enders, is a social hotspot for outgoing canines and their owners alike. It's split into two parts: the western half is landscaped with a fantastic organic lakeside café, boating lake and picnic areas in the summer, while the eastern half is more suitable for dogs and has larger expanses to run on. Be advised to carry a doggie bag though as there's an open-ended children's adventure playground (dogs are not allowed) and plenty of green area given over to sport. The Kenton is an excellent local dog-friendly Norwegian pub but most pubs around the park have outdoor eating areas.
More info on Victoria Park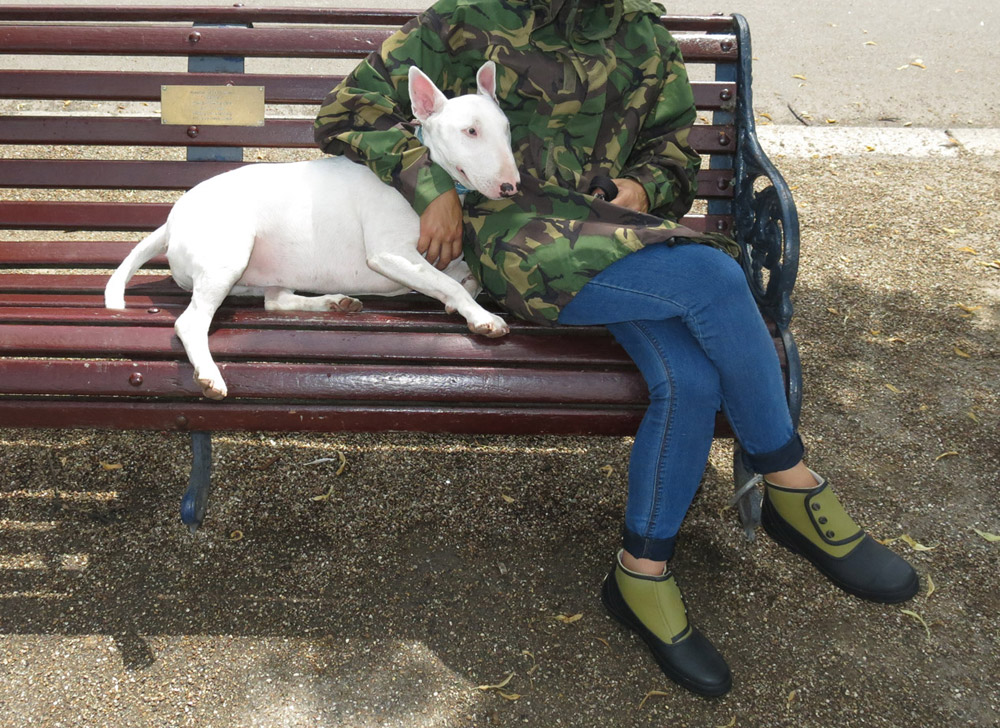 Richmond Park - west
Richmond Park is the biggest royal park in London (a staggering 2,500 acres to get lost in) and has been a royal hunting enclosure since the 13th century. It is still home to shoals of red and fallow deer and boasts some fantastic oak trees. You can let the dog off the leash to run amok but are expected to be able to prevent them from chasing the deer (remember that Fenton video on Youtube? "Fenton! Feeeennnnton!") King Henry's Mound offers unparalleled views of London if you can take the gradient and Isabella Plantation is a stunning 40 acre Victorian plantation with rare flora and little streamlets to explore. Dogs are allowed here on the lead.
Plan your walk at Richmond Park here. More on dog control in the royal parks
Regents Park / Primrose Hill - central
Designed by John Nash, Regent's Park covers 395 acres and is perhaps the most picturesque of central London's parks with glorious flower beds and the famous Queen Mary's rose garden with over 1000 varieties. There are plenty of places to let your pooch run free (especially on Primrose Hill where locals after work) but dogs should be kept on leads in the formal gardens and sports areas. There is plenty of choice for outside dining avec chien including The Boathouse, The Smokehouse, the Hub Cafe and the Regent's Bar Kitchen.
Plan your dog walk at Regents Park here
Peckham Rye Park and Common - south
This Victorian Park has recently been restored to its former Victorian glory with Lottery money. At 113 acres it is south east London's biggest green zone and it has loads to offer: woodlands, a lake, formal garden and the Café on the Rye. The arboretum is a canine-free zone but the lovely Japanese garden isn't, and there are plenty of other trails to take: Southwark council even provides a handy trail map
Plan your dog walk in Peckham Rye Park here.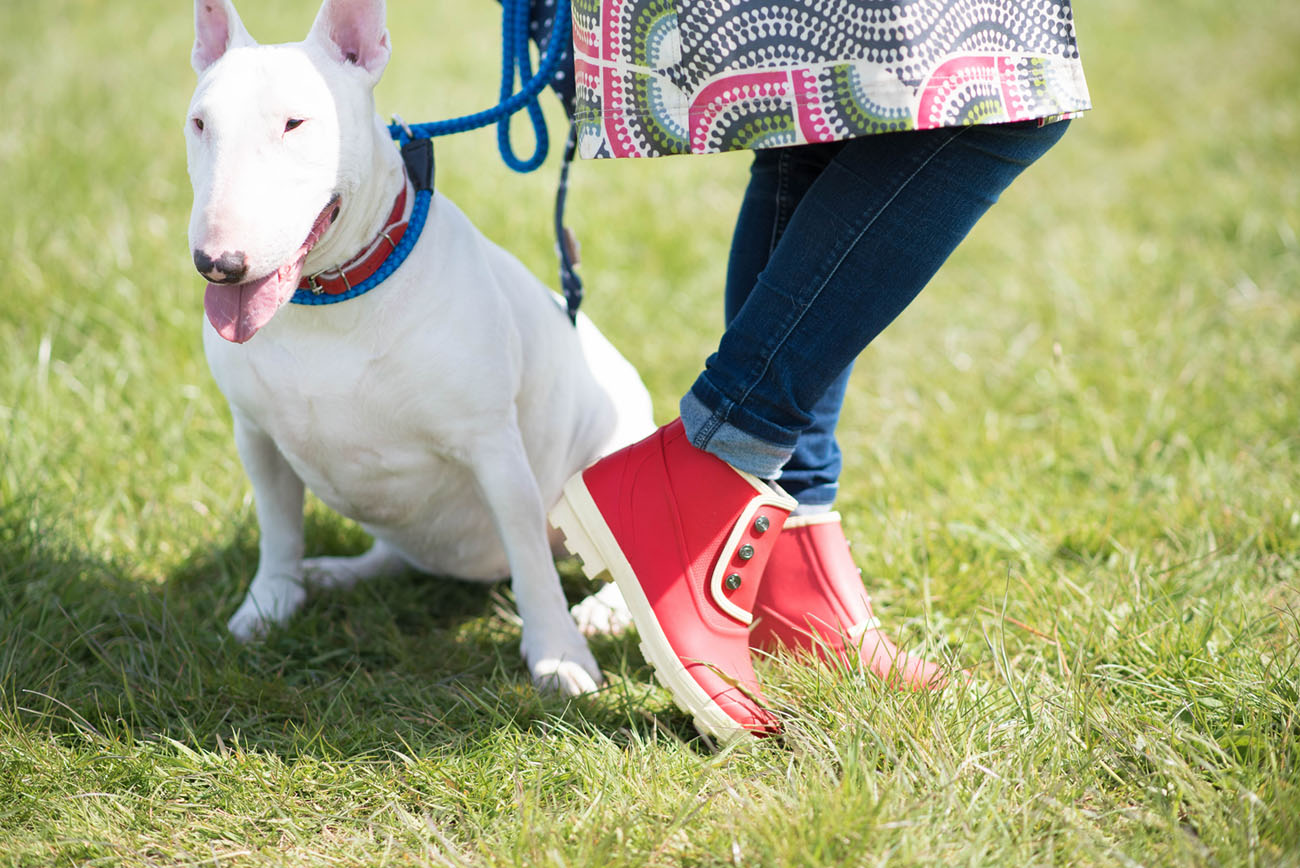 Hampstead Heath - north
North London would not be north London without the historic heath. It first entered history in 986 when Ethelred the Unready gave one of his loyal servants "five hides of land" at "Hemstede" and has since been featured in more works of fiction than any other park in England (probably). A wild and rambling slice of countryside with hills, woodland, lakes and meadows and its own stately home, Kenwood House, to boot. Karl Marx and poet John Keats would come here to gain inspiration and but your dogs will appreciate it on an altogether more fundamental level.
More info on dog walks on the Heath
Battersea Park - central
A veritable pleasure garden on the banks of the Thames, this is where the Chelsea set come to exercise their precious pooches and to hang out in one of its cafes. It's a flat park but there are plenty of places to run and hidden places around the ornamental ponds and their exotic plantations, which are home to a menagerie of water birds. The Pear Tree circular café has recently reopened with a large outdoor space.
More info on walking in Battersea Park
Lee Valley Park/Walthamstow, Hackney and Tottenham Marshes - east
The Lee Valley Regional park is actually the largest of Greater London's parks and links Hackney Marshes to the charming Springfield Park and Marina, on to Walthamstow Marshes and Tottenham Marshes via the River Lea and the canal network. Walthamstow Marshes (37 hectares) is surprisingly wild and is a wonderful place to let the dogs run free and Tottenham Marshes has protected wetland areas and wildflower meadows. There are great pubs and watering holes along the canal and Springfield Park has a nice café on top of the hill.
Plan your visit to the the Lee Valley Park. Longer Walks around the Lee Valley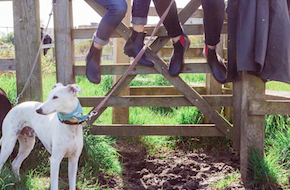 Wimbledon Common - south west
Who wouldn't want to womble on Wimbledon Common, the largest expanse of heathland in London? Encompassing Putney Lower Common and Putney Heath, the conversation area covers 1,140 acres and supports a variety of wildlife, areas of mature woodland, ponds and bogland. You'll cross paths with horse riders here as well as school children on nature trails and foragers in the autumn. If you start out from Putney, there's a lovely walk to Wimbledon windmill with dog-friendly tearooms to reward the foot-sore.
Plan your dog walk on Wimbledon Common here
Thames Path at Barnes - south west
A well-trodden path by well-heeled dog owners who live locally but little known about outside the postcode. We suggest starting the Thames path (going west towards Chiswick) from the lovely Victorian Hammersmith suspension bridge or Barnes Bridge. The walk offers the most pleasant, leafy views of the river, and is lined with fabulous trees which have grown huge due to the abundance of water. If you're feeling energetic you can walk all the way to Twickenham, - there are plenty of riverside pubs to stop at, several of which allow dogs on the lead.
More info on dog walking on the Thames Path from Barnes