Models tested: Eco SPATS "winter white" button boots, classic Prussian Blue/White button boots, Black buckle Boot.
Methodology: Wearing them every damn day for all purposes e.g. cycling to work, puddle and fountain jumping with kids, gardening, walking in the park and in the countryside…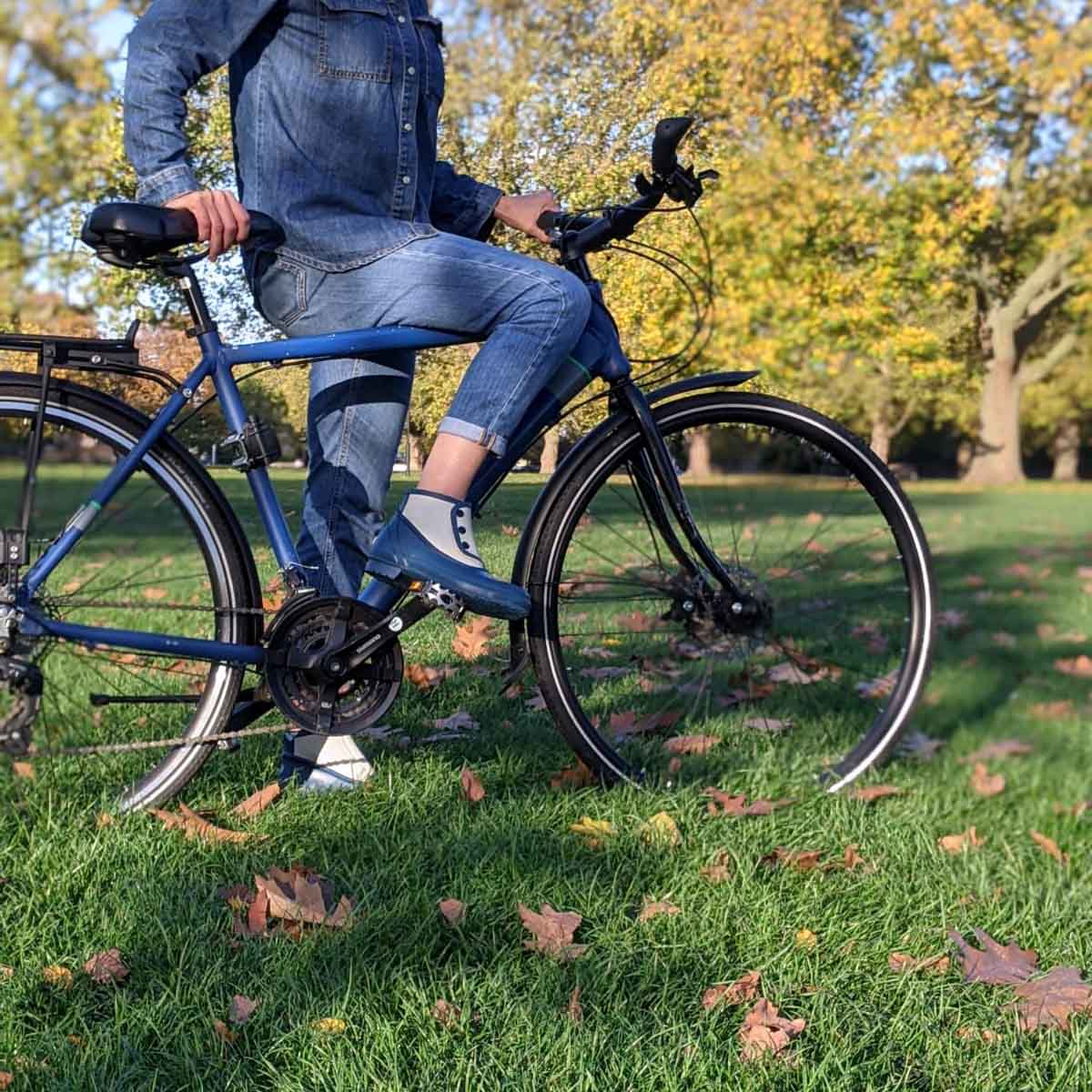 1. Rubber Quality :
The first thing I noticed when putting them eco SPATS was how soft and malleable the rubber is. You can really tell the difference when comparing them to the boots that we had made in China, which is good to know because we've doubled the percentage of natural rubber in new eco SPATS (which are also costing us three times more to make). I'm really happy, though, because the original Spats boots (made in India from 2008 to 2011, when the factory went bust) were made from this beautiful Keralan rubber that was soft as butter and lasted for years and years – so we're back to high quality rubber again.
2. Fit / Sizing:
I'm somewhat relieved to report that the Slovakian eco SPATS fit me like a glove and improve upon the fit of the China / India models. I am a classic size 39 on the right foot and a 38.5 on the left foot. This is mainly down to the fact that the new, podiatrist-approved lasts (the aluminium moulds the boots are built around) offer more support around the cone of the foot and the heel – basically, they are tailored to the foot more like shoes than wellington boots. My conclusion? Definitely the most comfortable SPATS yet – and that's even without the orthotic insoles.
Irina (EU 40 / UK 7) and Eliza (EU 38 / UK 5) and Peter (43) all report good fit so far…need more male testers...
3. The slip on / off test:
I have to say, the first Slovakia samples were not as easy to take on and off as the China and India boots and I had to use hands to put my Spats on for the first time! This is down to two factors: 1. they are more tailored to the foot (which is a good thing); and 2. the inner gusset is not cut deep enough (this is simple to remedy). We have briefed the factory to cut the gusset deeper on the next samples…SPATS mustn't lose keep their slip-on /off factor...
4. Comfort factor:
I wore them every day for the first month (NB. It is not advisable to wear rubber shoes every day – my podiatrist would not be impressed!), including on some long walks of 2 hours or more, and I can confirm the new model is degrees more comfortable than both the previous India and China button boots. The buckle model I found to be equally comfortable too. Like leather shoes, they soften up around the ankle after a few wearings.
After 5 weeks of wearing rubber shoes, the skin on my feet was starting to get a bit hard, so in November, I began wearing them with 4mm thick orthotic eco-foam insoles made by a potential supplier/partner Ortholite. These made my SPATS even snugger and gave added comfort when wearing for long periods of time. Definitely would advise orthotic insoles for farm workers, festival-goers who want to dance all night in them and country people who live in their wellies. As the freezing spell came in late November, I switched to wearing them with our sheepskin insoles from Bulgaria which kept my feet snug while hanging around in the playground.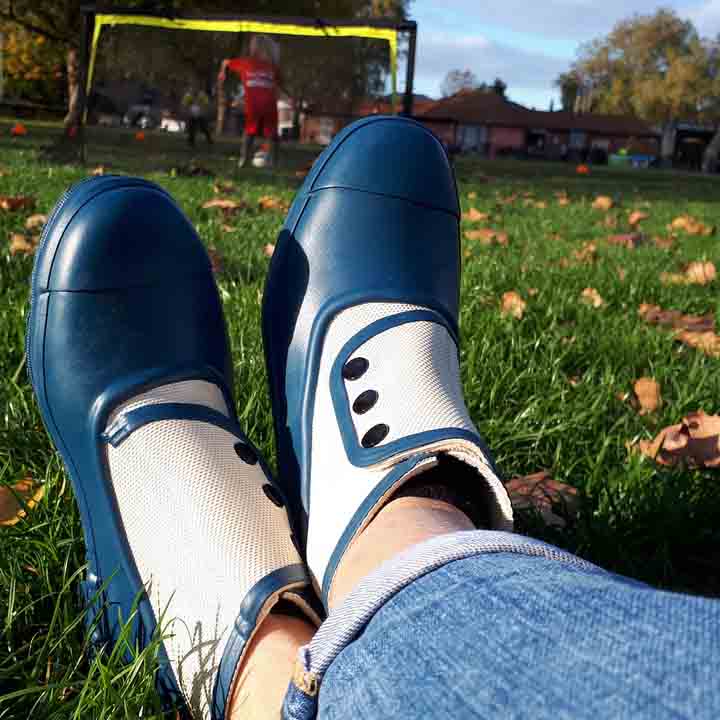 5. Buttons & Buckles test:
The buttons have been yanked around – I've even attempted to prise them off using fingers – and are still going strong. My conclusion? The new factory's mechanised method of applying them appears to be superior to the hand-crank button press technique used in China. I have noticed, however, that I don't actually need to close the buttons to wear them on the European model because they fit the foot so well.
Buckles: the buckle boots are my new favourites. OK, so they're maybe not as practical as the button boots (you have to do up the buckle) but they are so smart that I have even worn them on evenings out (dining outdoors during lockdown) and I have had several compliments.
6. Waterproof test:
Of course they're blooming waterproof – they're 100% rubber! Just don't go wading in over your ankles when you're out fishing...